The winner of the "Veggie Photo Contest" was Bob Severs with his Quinoa Burgers from Happy Herbivore. There were actually two winners, but I chose these burgers because they seemed like the most difficult to make. What can I say? I like a good challenge!
This is my personal version of these amazing vegan burgers. They contain both Quinoa and Black Beans, which are some of the best plant-based sources of protein around. Not only is quinoa high in protein, but the protein it contains is complete (including all nine essential amino acids). These burgers are also loaded with fiber, iron, magnesium, and riboflavin (Vitamin B2), making them not only tasty, but completely healthy. To top it off, they are cholesterol-free! You can't say that about the average beef burger.
Preparation: 45 minutes              Cook Time: 45 minutes
                        Yield: 4 Burgers
15oz can Black Beans (drained)
2 tsp TJ's 21 Seasoning Salute (or steak seasoning)
1/2 cup Whole Wheat Flour
1 Tbsp Organic Virgin Coconut Oil (or cooking spray)
Directions
1.  Cook Quinoa: Mix 1/2 cup of quinoa with 1 cup of water into a small saucepan.  Bring to a boil, then reduce heat and simmer (covered) for about 10-15 minutes. This will produce 1 cup of cooked quinoa.
2.  Saute onion and garlic in a skillet.  After about 5 minutes, add in 1 cup black beans, paprika, seasoning, and 1 cup water to the skillet. Simmer on medium heat for about 10 minutes or until all water has evaporated.
3.  Take bean/onion mixture from skillet and place into your food processor (or blender), adding 3/4 cup cooked quinoa. Blend until the mixture is completely smooth.
4.  Pour (or scrape) mixture into a mixing bowl. Add the remaining quinoa and black beans. Mix together with the salt, pepper flakes, wheat gluten, and flour.
5.  Cover bowl and place in the refrigerator to cool for at least 30 minutes.

6.  Preheat oven to 350°.
7.  Form patties and place them on greased baking sheet. You can use your favorite cooking oil/spray but I used coconut oil as it's light and tasty.


8.  Bake burgers for approximately 45 minutes at 350°, flipping them at least once during the cycle. When ready, both sides should be crisp and brown.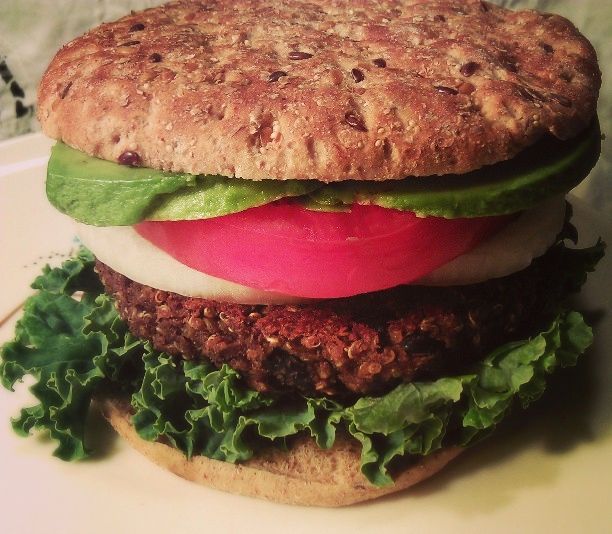 Did you try my Quinoa Black Bean Burgers? Tell me what you thought below!
- - -